Panoptic
Panoptic - Early Access Update 4
---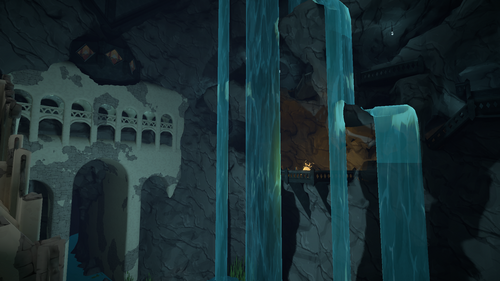 Hey everyone!

We released a new Panoptic main update a few days ago! Sorry for the delay on this post.
In this update, the new Waterworks level is completely playable, there is now an option to add Watchers to all levels, and there are a bunch of bug fixes!
The demo has also been updated, including the option to add Watchers!

As always, feel free to share your thoughts with us on Discord, Twitter, the Steam forum, or any other means.
Following is the full list of changes.
New Features:
The "Waterworks" level is now out of Preview and completely playable!
We've finished the architecture, placed invisible walls and blinding zones, updated the water effects, and finalised the lighting.
There is now a Gameplay Option in the Main Menu to have Watchers roaming around in ALL levels, not just in the Sanctum.
Bugs Fixed:
Play Area Repositioning (Moving / Rotating your Play Area) now also works in the "Orientation Scene" (before the start of each level).
In the Sanctum level, the Beings will no longer bunch up at the top of the extending stairs, while those are still closed.
Removed a recurrent warning when one or both controllers lose tracking temporarily.
Fixed a subtle behaviour bug with the Watchers, where they tried to move to the world's origin. You probably never saw any of this, but it was there, and now it's fixed! :)
Watchers no longer get stuck in their animation if the Overseer kills the NPC they were inspecting.
Added Blinding Zones for the Overseer in the Level Select and Orientation Scenes.
The crucibles that ride on rails in the Crucible level are now pre-warmed (pun intended), so it no longer takes forever before they start passing by. (If you don't know what we're talking about here, try looking around the sides of the Crucible level!)
The Watchers' lights are now more visible from the Overseer's perspective, thanks to improvements of the Hx Volumetric Lighting plugin.
Rebaked the lightmaps of all levels using an improved light baking solution, Bakery GPU Lightmapper.
We hope that you enjoy this new version, and do let us know what you think! :)
— Team Panoptes